Although liquid hydrogen has a high storage requirement, it must be guaranteed to remain liquid at -250°C, otherwise it will vaporize and evaporate, but the energy density of liquid hydrogen is higher than that of high pressure gaseous hydrogen (which is compressed to 700 bar). 75%, so the use of liquid hydrogen vehicles can achieve a relatively long driving range, with all the practical benefits.
The core technical difficulty with liquid hydrogen is how to keep it at a very low temperature. One of Hydrogen 7's core technologies is its liquid hydrogen fuel tank. This fuel tank is located between the rear seat and the tailgate and has a double-walled structure consisting of a stainless steel plate of 2 mm thick and a 30 mm vacuum super insulation between the inner tank and the outer tank. This structure greatly reduces the heat transfer, and the middle layer can provide a heat insulation effect equivalent to about 17 meters thick styropor (a type of polystyrene). In addition, the connection between the inner tank and the outer tank uses a carbon fiber sandwich, which greatly avoids heat transfer. BMW said that the effect of this thermal insulation technology is unprecedented in practical applications. For a simple example, adding boiled coffee to this kind of fuel tank can keep it warm for more than 80 days before it is reduced to a suitable amount for drinking. temperature. Such efficient insulation can keep the liquid hydrogen under a pressure of 3-5 bar for a long time at a constant temperature of about -250°C. Even a trace amount of evaporated hydrogen will be discharged through an evaporation management system with reasonable pressure and purification.
Because the temperature in the fuel tank is so low, the gaseous hydrogen vaporized from the fuel tank must be preheated with the heat provided for this purpose from the engine cooling system piping before entering the fuel mixing process.
our dished heads are used in a variety of applications and industries such as storage tanks, pressure vessels, road tank, food processing operations, chemical plants ,Nuclear operation, Oil Refining, Architectural feature, power generation.
Due to our forming experience and equipment, we can spin or press the first part of the process of forming your products, It depend on the thickness and material performance,
Our main products are 2:1 SE dished heads, Torispherical heads, Cones,Hemispherical Heads etc
Choosing the right type is the key decision for each customer and one for which our experience team to happy to give advice, simple speaking, the torispherical heads, the less ressure it can withstand, Conversely, the deeper dished heads, for example Elliptical heads, hemispherical, the greater pressure it can take.
Our in house-capability to form dished heads by cold press brings major benefits to our customers and sets us apart from others dished heads manufactures
For carbon steel dished heads, we can forming this dished heads from 76-9000mm in diameter and below 250mm in thickness
The general forming process as the below sketches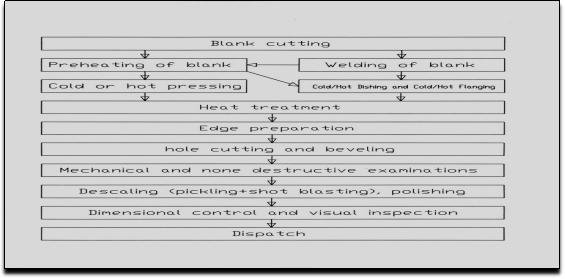 Technical Delivery Condition
1,Our material (hot Rolled Unalloyed structural steel, high and low temperature steel, High Alloy steel)
We have no carbon steel plates in our stock and most of plates are from Chinese steel market or mill. Meanwhile As Japanese owed company, We can also source the plates from Japanese ex-mill if end user can`t accept ex-chinese mill.
Basically the delivery time shall be below 20days for dished heads if plates are from steel market. and Max plates width from them is below 2200mm. it means that the seamless dished heads diameter shall be below about 1800mm.
The max width CS plates that Chinese mill can do is below 4700mm,and dished heads can be seamless below 3800mm in diameter.
2,Enquiry/order required information
We can give our clients once they gave us the below information
But if clients tolerance is higher than below Hokkai standards, it shall be provided to Hokkai prior to offer or ordering.
Carbon Steel Dished Only Head,Carbon Steel Dish Head,Carbon Steel Welding Dish Head,Carbon Steel Flange Only Dished Head
YIXING HOKKAI HEAD PLATE CO.,LTD , http://www.hokkaidishedend.com